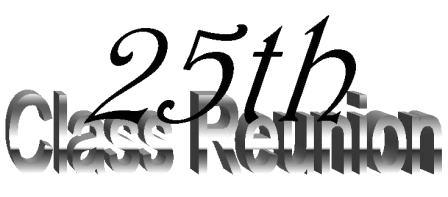 For weeks Todd had been looking forward to his 25 year high school class reunion.  Todd and his wife had always lived overseas and had not been to any of the previous get-togethers.  In fact, since graduation he had hardly ever been back to his small North Dakota hometown.  His parents had moved away, and Todd got out of touch with everyone, even his best friends.  But now, he could not wait to see them all again, find out what they had been doing for the last quarter century, and talk over old times.
     But the reunion proved to be a huge disappointment for Todd.  Half of the class wasn't even there, including some of the people he wanted to see most of all.  Several of his old friends were there, and many stories were told.  But Todd could not help but be disappointed in not getting to see many of the people he had expected to see.  And it irritated him to hear that a couple of those absent lived right in town and did not even bother to come.  When it was over, Todd said to his wife, "That is the last time I am driving 500 miles for this."
     Two weeks later it was his wife's 25th class reunion.  They did not have to travel far this time, because they now lived in her hometown.  But Todd was dreading the evening.  He did not even enjoy his own class reunion, what would he get out of this one?  He knew only a few of the people who would be there, and he wasn't looking forward to meeting all his wife's old boyfriends.  But his wife had gone 500 miles to his reunion, so he was obligated to go a few blocks to hers; but he grumbled about it all afternoon.
     Just as he expected, Todd did not know hardly anyone at the reunion.  But he did meet a few guys who, like he, were there for their wives' sake, and also did not want to be there.  None of them knew anyone else, so they decided to play cards, and all had a great time.  On the way home, Todd told his wife he couldn't wait for her next reunion.
     A couple weeks later, Todd was looking at some photos of his own class reunion.  It then occurred to him that he actually did have many good memories of the evening, and did see many of his good friends.  It was fun to see how everyone was doing, and to tell them about what he had been doing.  He realized that he really did have a great time.  So why was he so disappointed that evening of the reunion?  And what was so great about his wife's reunion?  All he did was played cards with a bunch of strangers.
     The difference between the two evenings was in Todd's differing expectations.  Todd had such high expectations for his own class reunion that he was bound to be disappointed.  All he could think about was who wasn't there and how much better it could have been.  On the other hand, he went to his wife's reunion expecting to be bored for four hours, so all it took was a good card game to make the evening a grand success.  Only later did Todd realize where he really had the best time.
      In the very same way, expectations can determine one's whole outlook on all of life.  A truly blessed life can still be a constant irritation to someone who is expecting perfection.  Another person, with many more troubles, can be much happier if they have a more realistic outlook and never expected life to be endlessly wonderful.  Expecting trouble, they are able to take it in stride when it comes their way. 
     One of the biggest problems facing those getting married is the problem of unrealistic expectations.  Many newlyweds are immature, living crazy and irresponsible lives, and face a host of troubles, and they know it.  But oftentimes they are quite sure that everything will settle down and be all better when they get married.  But then, having to work things out day after day, year after year, presents challenges that many couple are just not expecting.  High expectations can lead to big disappointments, just like for Todd.
     A recently divorced thiry-something woman was talking to her grandmother about marriage.  She asked, "Grandma, how could you she stay married to grandpa all those years; he can be so stubborn and unreasonable.  "Well," said grandma, "I guess back when we got married we just expected less of each other and got more."  The younger woman had been talking about all the fights her and her husband have.  He always wanted to spend money on newer cars, and she wanted spend money doing more traveling.  Grandma replied, "We didn't have money to buy anything extra, and didn't have the time to go anywhere.  We had cows to milk, field work to get done, and five kids to raise.  All we did was work and we still never had enough money.  But that was all we knew, even before we got married, so we just figured that is how it would be.  When that is how it was, there wasn't anything to be disappointed about."
     Jesus began his Sermon on the Mount (Matthew 5-7) with several statements that are now known as the Beatitudes; statements like, "Blessed are those who mourn, for they will be comforted; blessed are the meek, for they will inherit the earth," etc.  Someone once said there should have been one more: "Blessed are they who expect nothing, for they will never be disappointed."  (continued…)
******************************************
Job 2:9b  —  (Job said), "Shall we accept good from God, and not trouble?"
Haggai 1:9  —  "You expected much, but see, it turned out to be little.  What you brought home, I blew away.  Why?" declares the Lord Almighty.  "Because of my house, which remains a ruin, while each of you is busy with your own house."
John 16:33  —  (Jesus said),  "I have told you these things, so that in me you may have peace.  In this world you will have trouble.  But take heart!  I have overcome the world."
*******************************************
PSALM 103:1-2:
Praise the Lord, my soul;
    all my inmost being, praise his holy name.
Praise the Lord, my soul,
    and forget not all his benefits.