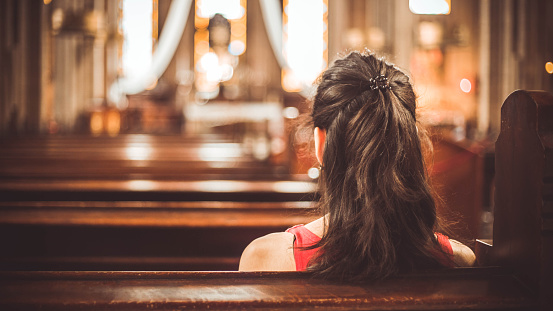 By Fred Craddock (1928-2015), Craddock Stories, ed. by Mike Graves and Richard F. Ward, 2001, Chalice Press, pages 132.
——————————
     The young woman, twenty-eight years old, at St. Mark's church in Atlanta, said to me, "This is the first time I was ever in a church."
     "Really?" I said.
     "Yeah."
     "Well," I said, "How was it?"
     She said, "Kind of scary."
     I said, "Kind of scary?"
     She said, "Yeah."
     "Why?"
     And she said, "It just seems so important."  She said, "You know, I never go to anything important.  This just seemed so important."
*******************************************
Hebrews 12:28-29  —  Therefore, since we are receiving a kingdom that cannot be shaken, let us be thankful, and so worship God acceptably with reverence and awe, for our God is a consuming fire.
Deuteronomy 32:46-47a  —  (Moses) said to them, "Take to heart all the words I have solemnly declared to you this day, so that you may command your children to obey carefully all the words of this law.  They are not just idle words for you— they are your life."
Hebrews 2:1  —  We must pay the most careful attention, therefore, to what we have heard, so that we do not drift away.
Hebrews 10:24-25  —  Let us consider how we may spur one another on toward love and good deeds, not giving up meeting together, as some are in the habit of doing, but encouraging one another; and all the more as you see the Day approaching.
II Corinthians 4:16-18  —  Therefore we do not lose heart.  Though outwardly we are wasting away, yet inwardly we are being renewed day by day.  For our light and momentary troubles are achieving for us an eternal glory that far outweighs them all.  So we fix our eyes not on what is seen, but on what is unseen, since what is seen is temporary, but what is unseen is eternal.
*******************************************
PRAYER FOR SUNDAY MORNING:
O God, our Father, we thank Thee for everything which brings us closer to Thee.
We thank Thee for Thy book, to tell us of Thy dealings with Thy people, and to set before us the deeds and words of our blessed Lord in the days of His flesh.
We thank Thee for the music and the poetry of the Psalms and the hymns we sing, and for all the memories they awaken.
We thank Thee for the open door of prayer which no one can ever shut.
We thank Thee for this day with its call to lay aside the things of earth and to enter into Thy house.
We thank Thee for the preaching of Thy word, to comfort our hearts and to enlighten our minds.
We thank Thee for the sacraments of Thy grace to be the channels of Thy divine love.
Open our hearts and minds today, that in it and its worship we may receive the precious things which Thou are waiting to give; through Jesus Christ our Lord.  Amen.
–William Barclay, The Plain Man's Book of Prayers, 1959, page 90.